Hardy County Schools will operate on a TWO hour delay tomorrow, Wednesday, February 1, 2023.

Hardy County Schools will operate on a three-hour delay for tomorrow, Thursday, January 26, 2023.

Due to impending weather, Hardy County Schools will be closed for tomorrow, Tuesday, January 25, 2023.

This is a reminder that schools are closed tomorrow in observance of Martin Luther King, Jr. Day. See you on Tuesday!

Buses in Wardensville may be running late this morning due to traffic issues related to a tractor trailer blocking portions of the road. All buses are still running.

Tomorrow, Thursday December 22, will be a non traditional instructional day for Hardy County Schools due to impending weather. Schools will be closed for winter break December 23 through January 4. Merry Christmas!

Due to trees being down, EH bus 51 driven by Chad Fitzwater will pick up any students that live on Funkhouser Road at M and L Trucking at 7:45 am Monday morning.

Hardy County Schools will be closed tomorrow, Friday, November 11, in observance of Veterans' Day.
All East Hardy students in grades 6-12 will get free admission to home regular season sporting events for the 2022-23 school year.
Mr. Parks and I are looking forward to seeing our 7th, 8th and 9th graders tomorrow for the first day of the school year!
On school days the doors at EHHS will open at 8:00 a.m. for bus and car riders. Car riders should be dropped off and picked up at the concourse doors behind the school.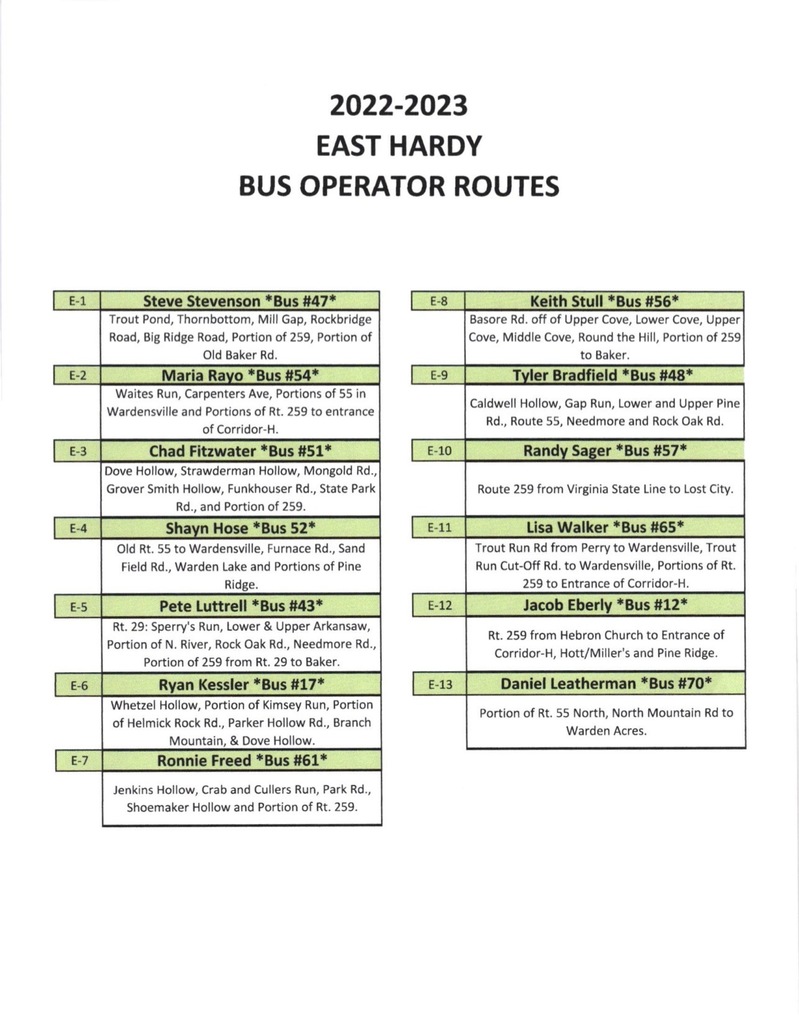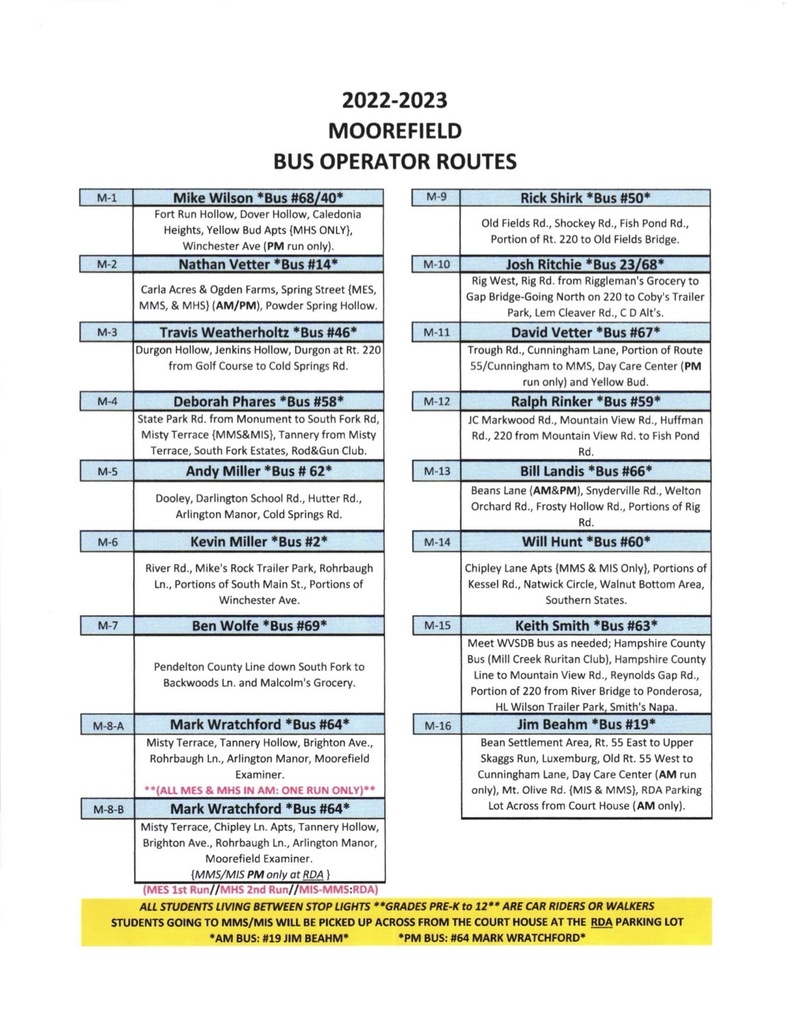 Any seniors interested in becoming a teacher should get in touch with Sherry Michael or Curtis Hakala at 304-434-8000 ext. 9238. **Students must register for the dual-credit EDUC 100 by THIS FRIDAY August 12** Please share, the deadline is prior to students' first day of classes.
East Hardy High School will begin the school year on Friday August 19, 2022 with a staggered start. All 7th, 8th and 9th graders should report to school that day. Grades 7 through 12 will report to school on Monday August 22, 2022.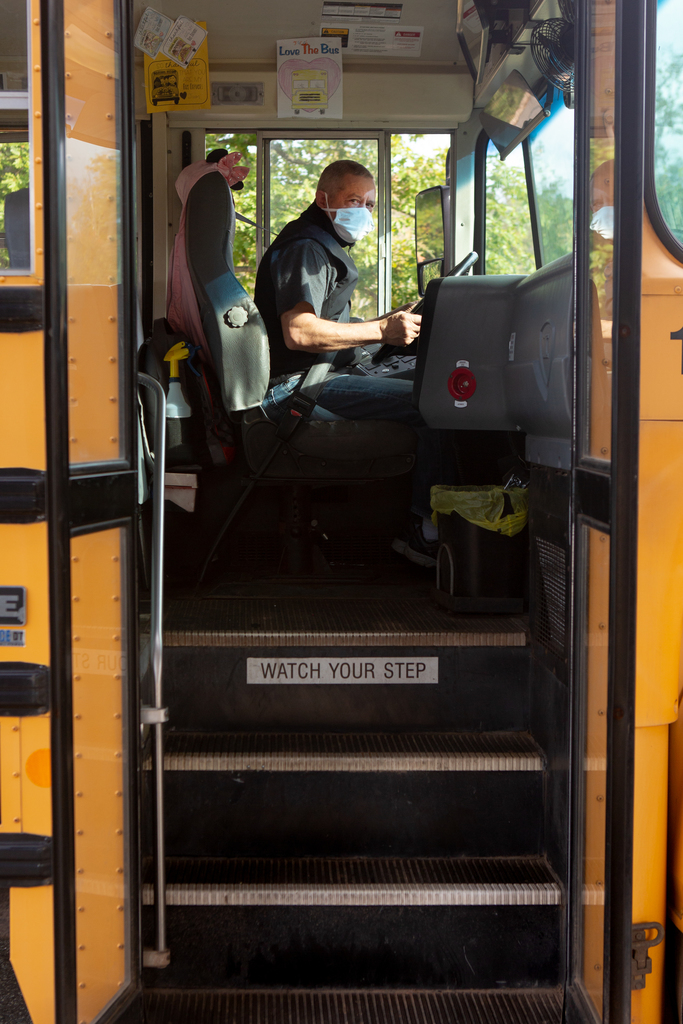 Good afternoon. Virtual School registration will close on August 12 at all schools. Please contact your child's school and register by this date if you plan for your son or daughter to be a virtual student this year. Virtual is offered to grades 6-12 only.
East Hardy High School student parking permits for the 2022-23 school year will be available for sale on August 10 in the school office. Passes will be $40. Senior permits will be sold from 8:00 to 10:00 a.m. Junior and student athlete permits will be sold from 10:00 to 12:00 Noon. Students must come to the school in person to purchase the permits.
We are so proud of Ashley Mills, Service Personnel of the Year. Ashley does an amazing job keeping our school clean and beautiful. EHHS is so blessed to have her! Congratulations, Ms. Ashley! 💚💛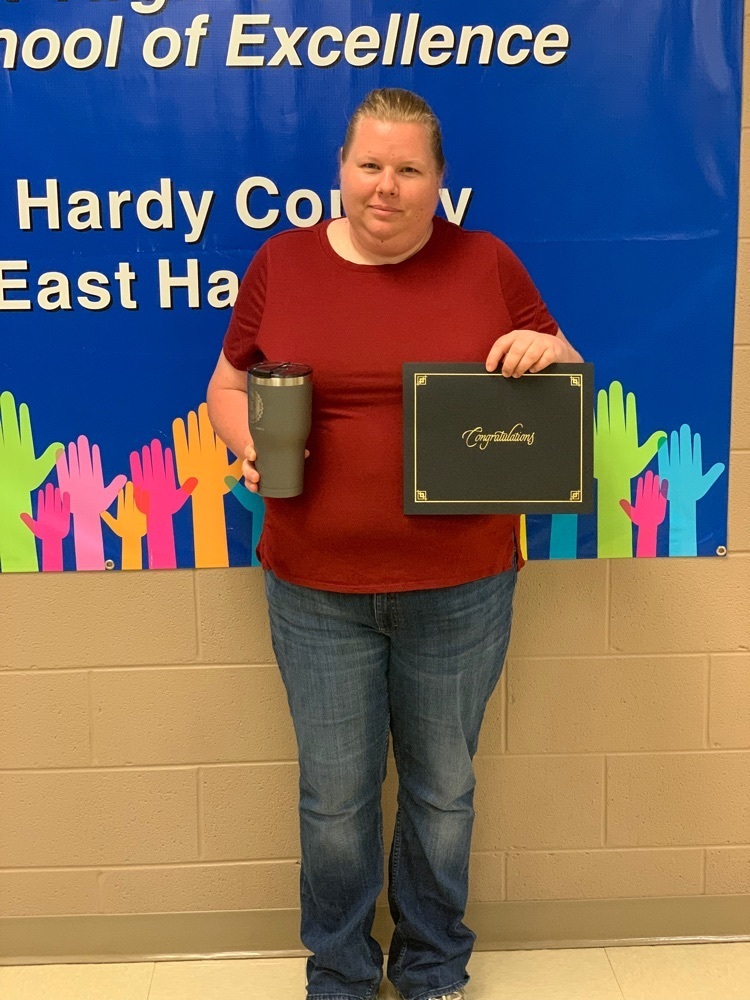 Summer Sole Camps will be offered at EHHS June 13-16 and June 21-23 (8:30 - 12:30 daily). These camps include Financial Literacy, Quick Math, and Credit Recovery. If interested, students should stop by the main office to register. The deadline for registration is Thursday, April 28.