We are having a back to school bash for our students and their families! Join us on August 13 from 3-7pm for an evening of fun family activities including a bounce house, crafts, music, and games. FREE food, drinks, and ice cream for the first 600 guests. We can't wait to see you all there!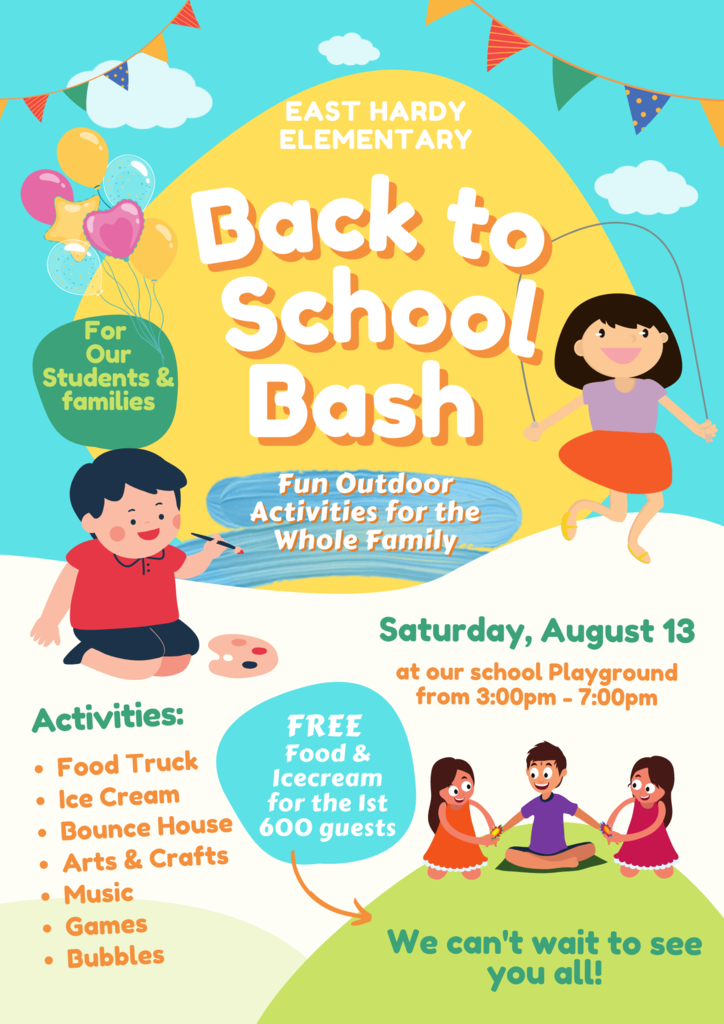 Please note our Start and End Times for the 22-23 School Year: Doors Open for Car Riders & Bus Drop Off: 7:50 AM Instruction Begins: 8:20 AM Dismissal Time for Car Riders & Buses: 2:53 PM

New to the area? Have a student in grades PK-6? Come to new student registration at East Hardy Elementary School on July 20th. We look forward to meeting you and will be available to assist you from 9am-4pm. Items needed are the student's birth certificate, social security card, up to date immunization records, most recent well child and dental checkup information.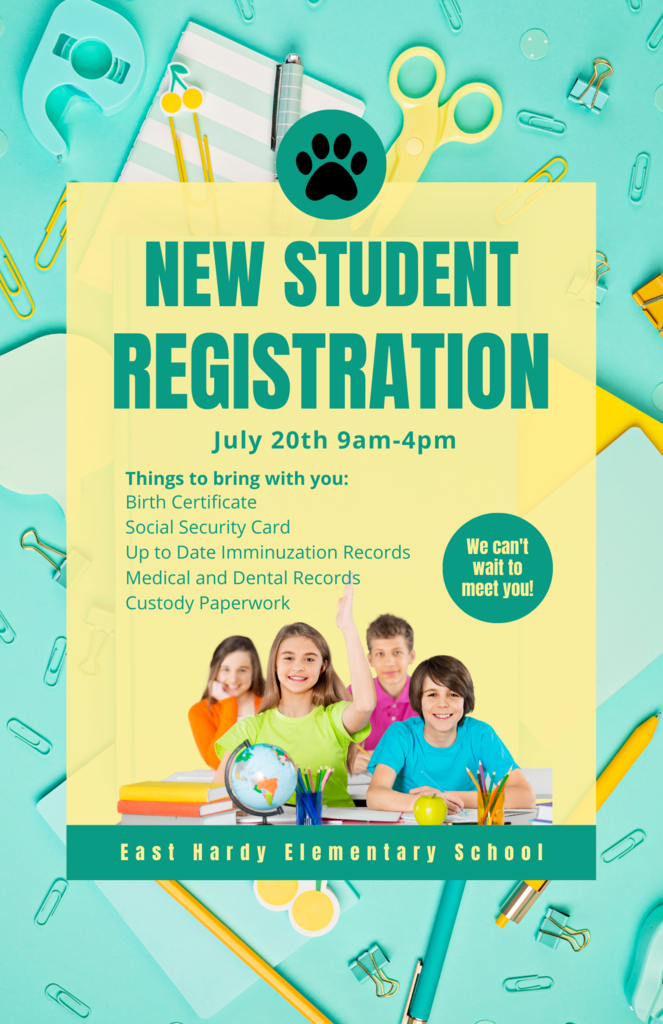 Join us for FREE Movie Nights this summer!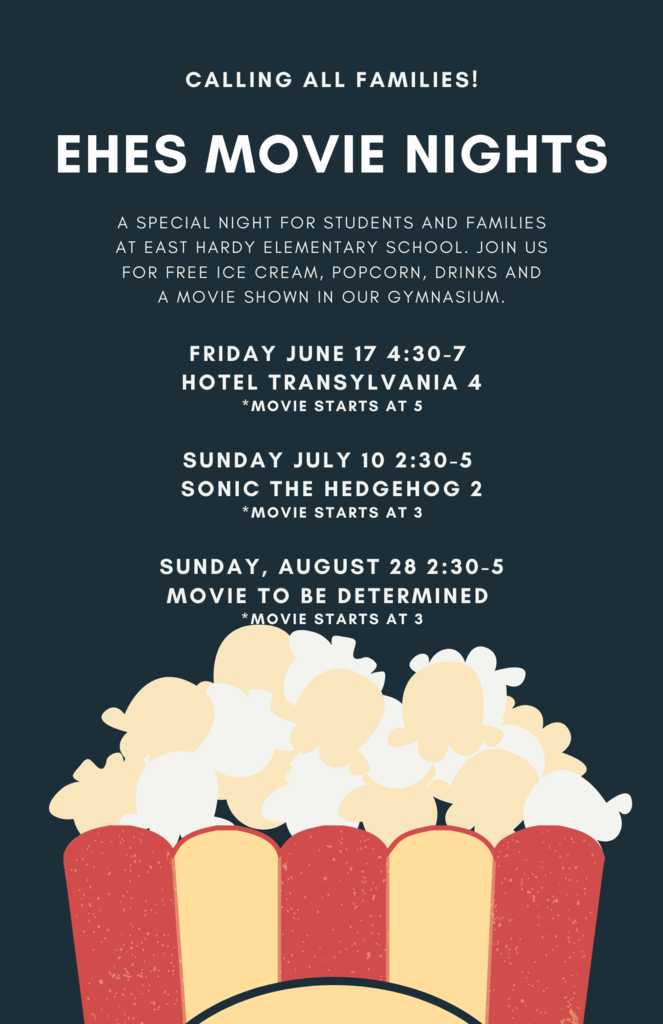 Reminder that schools in Hardy County will dismiss three hours early tomorrow, Wednesday, May 18 for Learning Teams.

Just a reminder that Hardy County Schools will be closed, Tuesday, May 10, for Election Day. Have a great weekend!
Come out to support Olive Miller, an EHEMS student recently diagnosed with leukemia, at the old Mathias School at 3:00 tomorrow! Food, Cake Wheel, free-will donation, quilt raffle, and more!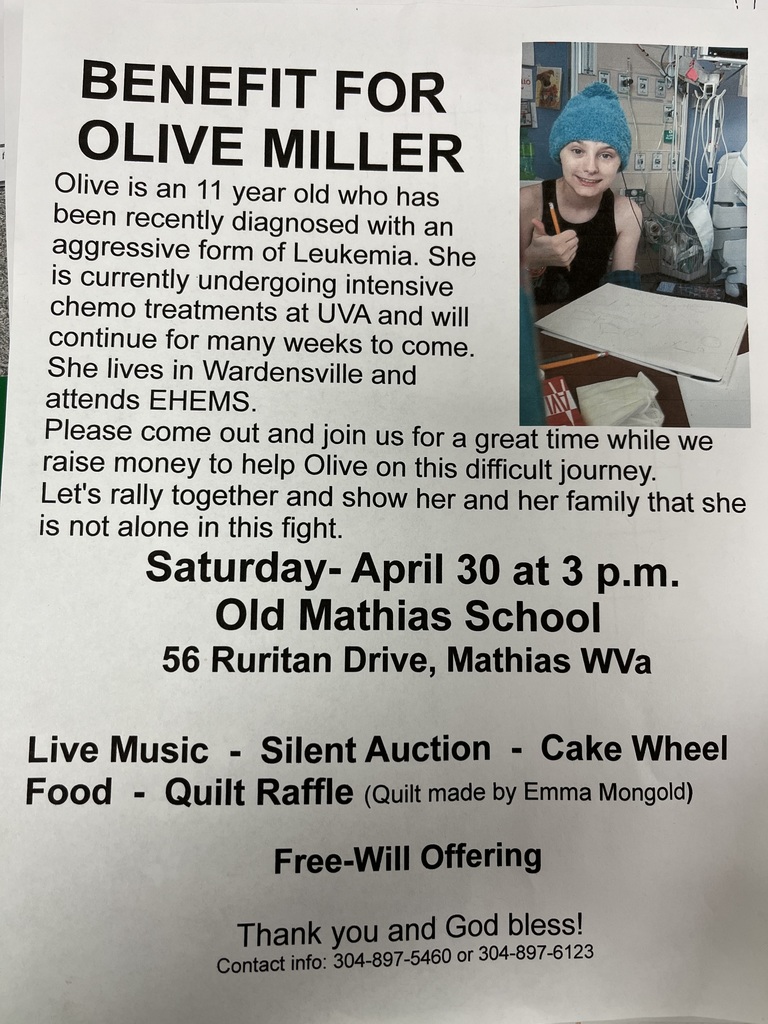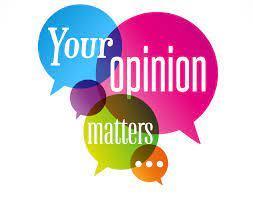 East Hardy Early Middle School Spring Book Fair is a BUY 1 GET 1 FREE Fair. All items count in this sale. The fair will be on April 26, 27, 28, May 2, 4 during school and on April 27th there will be a family night to buy books from 3:00-6:30. Your purchases help support the school library. Our fall sales helped our library get 80 new books for students to check out. Thank you!!
Join us for Book Bingo! Wednesday, April 27th from 4:30 - 6:00. Enjoy refreshments and play BINGO for a chance to win a book! Hope to see you there!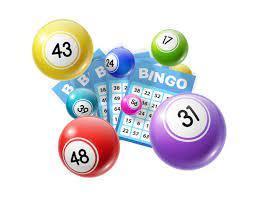 Reminder that schools are closed on Monday and will reopen on Tuesday, April 19. Happy Easter!

This is a reminder that Hardy County Schools will dismiss three hours early on Friday, April 8, for Faculty Senate Meetings.

Hardy County Schools will operate on a three hour delay for Wednesday, March 30 due on to the Winter Weather Advisory in place and potential for ice tomorrow morning.
For those who have already RSVPed, don't forget our MATH OLYMPICS night this Thursday, March 24th from 5:00 - 7:00 pm! Try your hand at curling, badminton, and more! Fun for the whole family.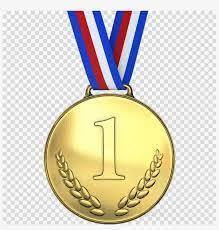 Come check out the Hardy County Student Art Show at Eastern WV Community and Technical College through March 31st. Hours are Mon-Thurs 8-6 and Fridays 8-4.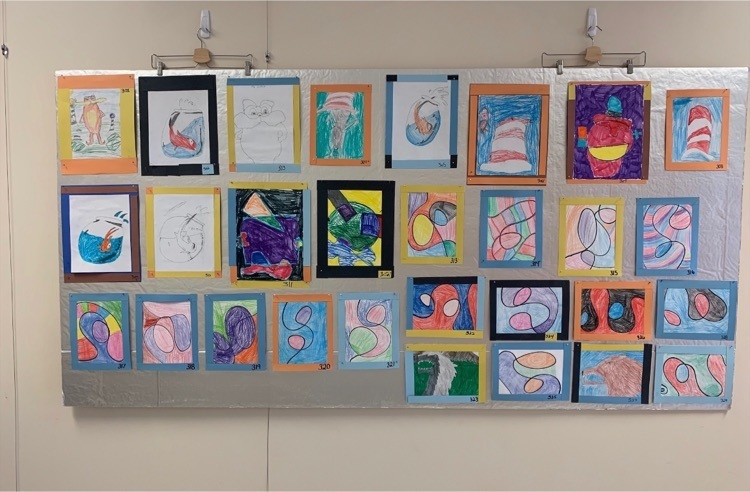 This is a reminder that all schools in Hardy County will dismiss three hours early on Wednesday, March 16.
March 23rd will be Spring Portraits at EHEMS. These are NOT prepaid. You will receive a proof to review and order.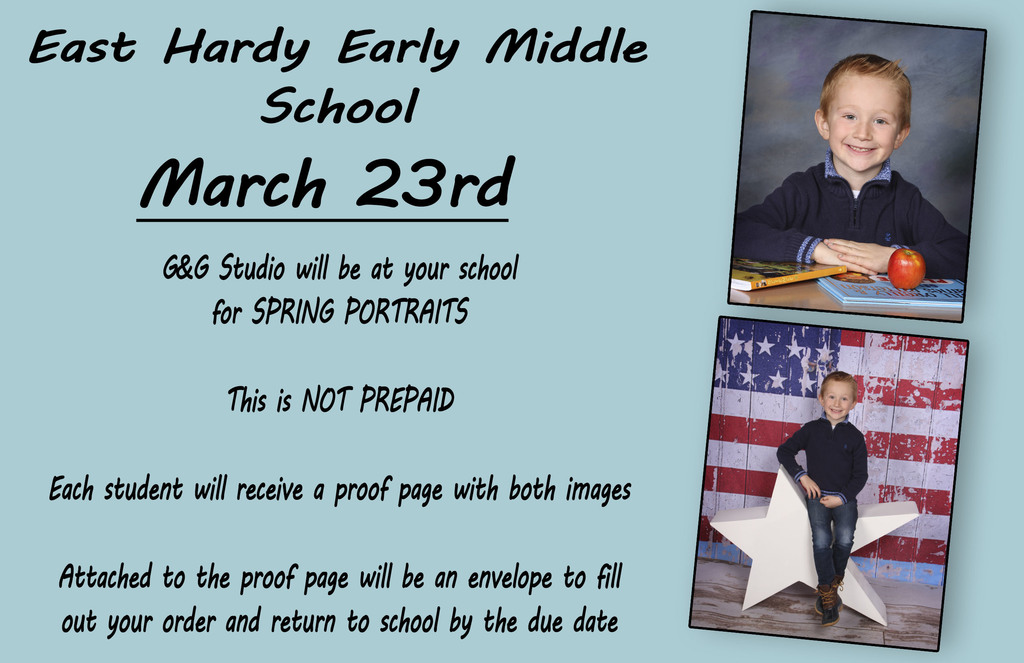 Based upon the current weather forecast for Hardy County Schools, will operate on a two hour delay for Thursday, February 24. We will update you if there are any changes.

The combination route of bus 53 Kessler and 48 McCullough does not have a driver. Bus 52 Shirk will return after his normal route and return students home. This may push back the route 40-45 mins. Parents may choose to pick up their children.

EH bus 48 will not run tomorrow. Students may meet bus 53 at the intersection of Caldwell/Parker Hollow Road at 7:25 in the morning and 3:30 in the evening, Intersection of Brants Teets /Parker Hollow at 7:30 in the morning and 3:25 in the evening or Broken Spoke at 7:40 AM in the morning and 3:15 PM in the evening. Times may fluctuate by five minutes.